Many Disciplines, One Event
The Association of Environmental Engineering & Science Professors (AEESP) 2015 Conference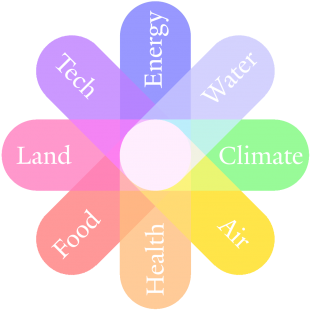 Since its inception, environmental engineering has been focused on problem solving. The wide array of environmental issues that were egregious in the middle of the 20th Century - air pollution, water contamination, and land degradation - have seen dramatic improvement, particularly in the developed world, due in part to the creativity and innovation of environmental scientists and engineers. During this time, however, there has been a growing recognition that a narrow focus on individual environmental problems may lead to solutions with unintended consequences, causing other environmental problems.
It has become increasingly clear in the environmental science and engineering field that true sustainable solutions to environmental problems must be undertaken with a systems approach. The strategies and technologies being designed today must not only consider the primary environmental issue.  Rather, they must also consider linkages and feedbacks to other natural and human systems.
The 2015 AEESP Conference, Environmental Engineering and Science: At the Nexus, will provide a venue to highlight the current thinking and accomplishments of this emerging focus of the field. Environmental Engineering faculty and students at Yale University welcome colleagues join the conference and share creative ideas at this front of our field.
Update (16 April 2015): Draft program of oral presentations is now available!  We're looking forward to the exciting talks at this year's conference.
Reminder: The conference does not provide shuttle service from the airport to the conference site. If you are traveling from BDL, please check out CT Limo and Hy's Limo for shuttle service. Please check out our "venue and travel" page for more information. 
Jaehong Kim, Conference Chair
jaehong.kim@yale.edu
Menachem Elimelech, Conference Co-Chair
menachem.elimelech@yale.edu
Oral and Poster Session Organizers:
Desiree Plata, desiree.plata@yale.edu
Drew Gentner, drew.gentner@yale.edu
Workshop Organizers:
Jordan Peccia, jordan.peccia@yale.edu
Julie Zimmerman, julie.zimmerman@yale.edu
Activities Organizer:
Joseph Pignatello, joseph.pignatello@ct.gov
And Graduate Students and Postdocs of Yale University's Environmental Engineering Program